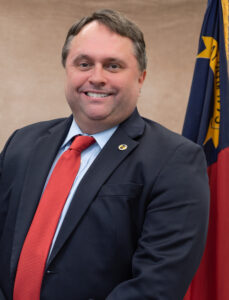 Frank Williams is a small business owner and Brunswick County native who was elected Brunswick County Commissioner from District 5 on November 6, 2012 in his first run for public office.  He served as Chairman of the Brunswick County Board of Commissioners from December 5, 2016 until December 7, 2020. He lives in Leland with his wife, Lori. 
Frank was sworn in as the 105th President of the N.C. Association of County Commissioners (NCACC) at the association's annual conference on August 14, 2021. During the installation banquet he announced his presidential initiative, 100 Counties Prepared. The initiative was borne out of his experience serving as Chair of the Brunswick County Board of Commissioners during Hurricanes Florence, Dorian, and Isaias, during which he observed a lack of emergency preparedness training suitable for elected officials. He appointed a statewide task force which worked with the NCACC staff to develop a full day of emergency preparedness training for county commissioners. Sixty-one county officials completed the inaugural 100 Counties Prepared Emergency Preparedness Training for Elected Officials on August 11, 2022 in Cabarrus County. On May 31, 2023, the NCACC partnered with N.C. Emergency Management and Duke Energy to hold another 100 Counties Prepared training. The training, which was held at the N.C. Emergency Operations Center in Raleigh, attracted 43 people from 25 counties. Click here to learn more about the initiative.

Frank grew up in the rural community of Northwest, located ten minutes west of Leland in northern Brunswick County. He is the among the fourth generation of his mother's family to live in the Northwest community, and his father's family was in nearby Columbus County as early as the mid-1700s.  His first leadership role came as a teenager, when he served as a Patrol Leader in Leland's Boy Scout Troop 265, and his first job was working as a busboy at the Sandpiper Seafood House in Leland.  He also spent two summers working in the summer student program at what was then Federal Paper Board (now International Paper) in Riegelwood. He graduated from North Brunswick High School in 1988 and earned his undergraduate degree from N.C. State University in 1993.
Frank has represented Brunswick County in a number of capacities, including:
Chair, Cape Fear Rural Planning Organization Transportation Advisory Committee (2014-present)

Wilmington Urban Area Metropolitan Planning Organization (Board Member 2012-present; Vice Chair, 2016)

Board Member, Lower Cape Fear Water & Sewer Authority (2017-present)

Board Member, Brunswick Business & Industry Development (2017-2020)

Chair, Military Ocean Terminal Sunny Point (MOTSU) Joint Land Use Study (JLUS) Policy Committee (2018-19)

Rail Relocation Task Force (2015-17)

Cape Fear Council of Governments (Board Member 2012-2016; Vice Chair, 2015-16)

Southeast Economic Development Commission (2013-14).
Frank also takes an active leadership role in the community, having served on the boards of directors of Communities in Schools of Brunswick County, the North Brunswick Chamber of Commerce and is both a past president and current president elect of the Leland Area Rotary Club.  He has also served on the Brunswick Community College Small Business Center Advisory Committee, chaired the Boy Scouts' 2010 and 2011 fundraising breakfasts in Leland and served on the executive board of the Cape Fear Council, Boy Scouts of America.
In August 2013, then-Governor Pat McCrory appointed Frank to the N.C. Commission on Volunteerism & Community Service, a role in which he served until April 2017.  He also served as chair of the General Government Steering Committee for the N.C. Association of County Commissioners and on the association's legislative goals committee. He is Chair of the National Association of Counties' Resilient Counties Advisory Board, is a member of the NaCo International Economic Development Task Force and Rural Action Caucus, and served on the NaCo Broadband task Force in 2020.
Frank is currently in his second stint as a member of the N.C. Leadership Council for the National Federation of Independent Business (NFIB). He was a member of Class 14 of the Brunswick Sheriff's Citizens Academy in the Fall of 2013 and is a Spring 1996 Fellow of the N.C. Institute of Political Leadership. He has achieved Mentor level with the UNCSOG Local Elected Leaders Academy, is a graduate of the UNC School of Government (UNCSOG) Advanced Leadership Corps (ALC) program and the National Association of Counties' County Leadership Institute (CLI), was a member of the 2021-22 N.C. Leadership Forum cohort, and is an alumnus of Leadership North Carolina's 30th Class (2022-23).
Professionally, Frank is president of Pioneer Strategies, a public relations and strategic communication firm he founded in August 2001, and co-owner of Pioneer Specialties, a promotional products distributorship he and Lori co-founded in January 2019.
Frank received both the N.C. State University Communication Alumni Circle's Outstanding Alumni Achievement Award and the Triangle Business Journal's "40 Under 40″ leadership award in 2006. He received the Cape Fear Council of Governments' Lynwood Norris Regional Champion Award in 2015. In 2018, Frank was one of two recipients selected by Southport Magazine's readers to receive the Maggie Award for the Local Official Who Worked the Hardest During Hurricane Florence.
Frank is an avid N.C. State Wolfpack fan and enjoys fishing, reading, movies, nature photography and relaxing on the beach.  He self-published his first novel, After the Republic, in 2015, and completed the sequel, Convergence, in late 2017. Frank and Lori attend Northside Baptist Church.